Chemical Biology Summer Program (ChBSP)
Tri-Institutional Chemical Biology Summer Program (ChBSP)
[[ PAGE BANNER: see the home page instructions for adding new images. Image should be 864 pixels wide by any height. ]]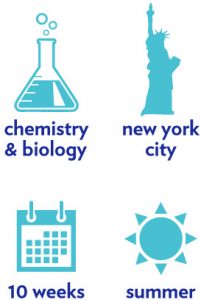 The Tri-Institutional Chemical Biology Summer Program (ChBSP)
is offered jointly by the
Tri-Institutional PhD Program in Chemical Biology
and the
Office of Science Education & Training
at Memorial Sloan Kettering Cancer Center. This ten-week program is generously supported by the
Sanders Innovation & Education Initiative
of the Tri-Institutional Therapeutics Discovery Institute.ChBSP brings outstanding rising sophomores, juniors, and seniors who are interested in pursuing research at the interface of chemistry and biomedicine for a summer research experience on the Tri-Institutional campuses of Memorial Sloan Kettering Cancer Center, The Rockefeller University, and Weill Cornell Medicine. Applicants must have a background in chemistry, biochemistry, or chemical biology. The 10-week program begins on
June 6
and ends on
August 12, 2022
. We are currently anticipating holding this internship in person, but will make a final determination about virtual vs in person in the Spring. We will continue to assess New York State guidelines and will post updates here.
The application will be available beginning on November 1, 2021 and must be submitted online by February 1, 2022.
ChBSP is strongly committed to promoting diversity and inclusion in science. Our program has zero tolerance for racism or discrimination in any form. We strongly encourage applications from students who are members of underrepresented minority groups, are from disadvantaged backgrounds, and/or have disabilities.
Students who are accepted to ChBSP will:
• Adapt their chemistry skills to tackle cutting-edge problems in biomedical research
• Work in preeminent research labs at Sloan Kettering, Rockefeller, or Weill Cornell
• Interact with faculty, postdoctoral fellows, and graduate students
• Attend weekly scientific lectures by faculty
• Participate in weekly journal club discussions
• Attend professional development workshops
• Present their research in a poster session at the end of the summer
Students will be paid $6,000 for the summer. Housing available.
Download Flyer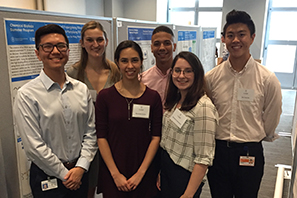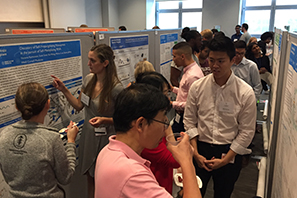 Areas of Research
Students will partner with faculty from Sloan Kettering, Rockefeller, and Weill Cornell who have expressed a strong interest in working with undergraduate students with chemistry skillsets. The faculty listed below are conducting research in diverse areas of chemical biology and provide exciting research opportunities for students with backgrounds in chemistry, biochemistry, or chemical biology. Information about their scientific projects can be found by visiting their respective websites:
How To Apply
Undergraduate freshman, sophomores, and juniors who are majoring in chemistry, biochemistry, chemical biology, or related fields are invited to apply to ChBSP.
Eligible applicants must be authorized to work in the US.
Students can complete and submit the online application at: sam.mskcc.org/ChBSP. The application portal will open on November 1, 2021. The application deadline is on February 1, 2022.
Application requirements:
• Interests in applications of chemistry to biomedical problems
• Personal statement describing research background and interests
• Completion of college-level chemistry courses (minimum 3.0 GPA overall)
• Two letters of recommendation by faculty members who are familiar with the applicant's academic preparation and research potential. Letters must be submitted by faculty members directly via the online submission system.
• Applicants can upload and submit an unofficial transcript from their college or university directly into the application system. (Only those accepted into the internship will need to submit an official transcript after acceptance). If you have any questions or concerns about transcripts, please contact Romina Rodriguez at oset@mskcc.org.
Applicants will receive offers of lab placement no later than March 15, 2022.
Apply Now!
Daniel Bachovchin, PhD
Summer Program Director
ChBSP Students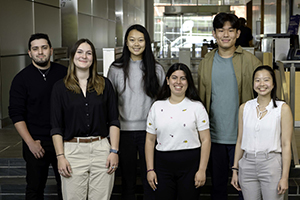 2022
• Casey Chan, Brown University, Class of 2023, Chemical Biology
(with Prof. Yael David, Sloan Kettering)
• Isabelle Edmondson, Middlebury College, Class of 2023, Molecular Biology & Biochemistry
(with Prof. Daniel Bachovchin, Sloan Kettering)
• José Llera Muñoz, U. Puerto Rico, Rio Piedras, Class of 2023, Chemistry
(with Prof. Samie Jaffrey, Weill Cornell)
• Elizabeth Mari, Haverford College, Class of 2023, Chemistry
(with Prof. Jacob Geri, Weill Cornell)
• Hans Oh, U. North Carolina, Chapel Hill, Class of 2023, Biochemistry & Biology
(with Prof. Tarun Kapoor, Rockefeller)
• Sarah Xi, Columbia University, Class of 2023, Chemistry
(with Prof. Ekaterina Vinogradova, Rockefeller)
ChBSP Alumni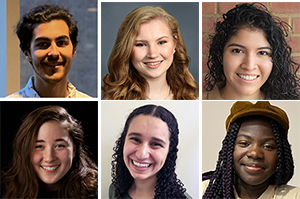 2021
(All interns were hosted at MSK due to campus access limitations.)
• Dominic Covelli, Brown University, Class of 2022, Chemical Biology
(with Prof. Daniel Bachovchin, Sloan Kettering)
• Julia Flood, Fordham University, Class of 2022, Chemistry
(with Prof. Yael David, Sloan Kettering)
• Amanda Garza, Boston College, Class of 2022, Biochemistry
(with Prof. Yueming Li, Sloan Kettering)
• Maya Huffman, Williams College, Class of 2022, Chemistry
(with Prof. Derek Tan, Sloan Kettering)
• Atara Neugroschl, Yeshiva University, Class of 2022, Biochemistry
(with Prof. Daniel Bachovchin, Sloan Kettering)
• Abigail Pierre, Seton Hall University, Class of 2022, Biochemistry
(with Prof. Heeseon An Sloan Kettering)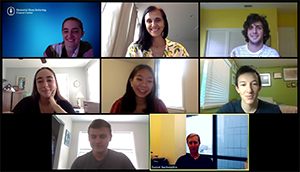 2020
(All interns were hosted virtually.)
• Joann Chongsaritsinsuk, University of Richmond, Class of 2021, Biochemistry & Mol. Biol.
(with Prof. Tarun Kapoor, Rockefeller)
• Samuel Croes, Brown University, Class of 2021, Biochemistry & Molecular Biology
(with Prof. Lewis Cantley, Weill Cornell)
• Benjamin Freeman, Princeton University, Class of 2021, Chemistry
(with Prof. Shuibing Chen, Weill Cornell)
• Anna Soltys, Princeton University, Class of 2021, Chemistry
(with Prof. Derek Tan, Sloan Kettering)
• Charles Warren, University of North Carolina, Chapel Hill, Class of 2021, Chemistry
(with Prof. Daniel Bachovchin, Sloan Kettering)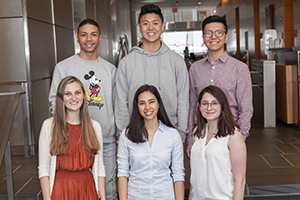 2019
• Antoinette Antonucci, Kean University, Class of 2020, Biotechnology
(with Prof. Tarun Kapoor, Rockefeller)
• Katharine Kayla Glaser, Barnard College, Class of 2020, Biochemistry
(with Prof. Richard Hite, Sloan Kettering)
• Christopher Nieves Escobar, University of Puerto Rico, Humacao, Class of 2021, Chemistry
(with Prof. Seth Darst, Rockefeller)
• Victoria Rasmussen, Providence College, Class of 2020, Biology / Psychology
(with Prof. Samie Jaffrey, Weill Cornell)
• Matthew See, University of Michigan, Class of 2020, Chemistry
(with Prof. Anant Menon, Weill Cornell)
• Shaochen (Tiger) You, University of Texas, Austin, Class of 2020, Biology
(with Prof. Daniel Bachovchin, Sloan Kettering)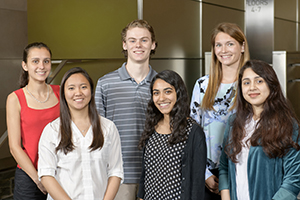 2018
• Angelina Grebe, Fordham University, Class of 2019, Chemistry
(with Prof. Howard Hang, Rockefeller)
• Nathan Harper, Lafayette College, Class of 2019, Biology
(with Prof. Tarun Kapoor, Rockefeller)
• Sophie Kong, Bucknell University, Class of 2019, Biochemistry
(with Prof. Daniel Bachovchin, Sloan Kettering)
• Maham Mahmood, Adelphi University, Class of 2019, Biochemistry
(with Minkui Luo, Sloan Kettering)
• Rashmi Rao, Cornell University, Class of 2020, Chemistry
(with Prof. Samie Jaffrey, Weill Cornell)
• Lauren Vostal, Williams College, Class of 2019, Chemistry
(with Prof. John Blenis, Weill Cornell)
SaveSaveSaveSaveSaveSave
SaveSaveSaveSaveSaveSaveSaveSave
SaveSave
SaveSaveSaveSave
SaveSave
SaveSaveSaveSaveSaveSaveSaveSave
SaveSaveSaveSave
SaveSave
SaveSaveSaveSave