Director's Message
TPCB — more than the sum of its parts
[[ PAGE BANNER: see the home page instructions for adding new images. Image should be 605 pixels wide by any height. ]]
Training the Next Generation of Scientific Leaders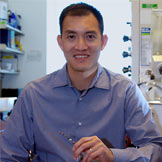 Early in my training as a synthetic organic chemist, I became fascinated by the power of using chemical tools and principles to address challenging problems in biology and medicine. Chemistry is at the heart of all biological processes and is the basis for the vast majority of modern medicines. Although chemical biology research has traditionally been pursued by scientists formally trained in chemistry, our increasingly molecular understanding of biology and disease requires that the next generation of scientists command not only fundamental knowledge of chemistry, but also a deep understanding of the complex problems at the forefront of biomedical research.
The Tri-Institutional PhD Program in Chemical Biology was established to train this next generation of leaders in chemical biology research. Students in our program build a strong foundation in chemical principles and a discerning eye toward the greatest opportunities and challenges in biology and medicine. This enables them to leverage the power of multidisciplinary collaborations to transcend boundaries between traditional scientific disciplines. We emphasize direct, hands-on experience in research, with our students working under the mentorship of over 50 outstanding faculty across our three campuses. Our state-of-the-art facilities are unmatched and provide the most advanced instrumentation and specialized expertise to support our students' research.
By combining the resources of Weill Cornell Medical College, The Rockefeller University, and the Memorial Sloan Kettering Cancer Center, we provide a unique environment for our students to pursue chemical biology research at the apex of the field. The Tri-Institutional program is much more than the sum its parts, with synergistic collaborations between laboratories and crosstalk between diverse scientific disciplines being brought to bear upon the most important problems in chemical biology.
I hope that these opportunities are as exciting to you as they are to all of us in TPCB! Please learn more about our program here on our website and feel free to contact us if you have any questions. We look forward to receiving your application!
Sincerely,
Derek S. Tan, PhD (he/him)
Director, TPCB