Student Perspective: Stern
First-generation college student, parent, and NSF Fellow
[[ PAGE BANNER: see the home page instructions for adding new images. Image should be 864 pixels wide by any height. ]]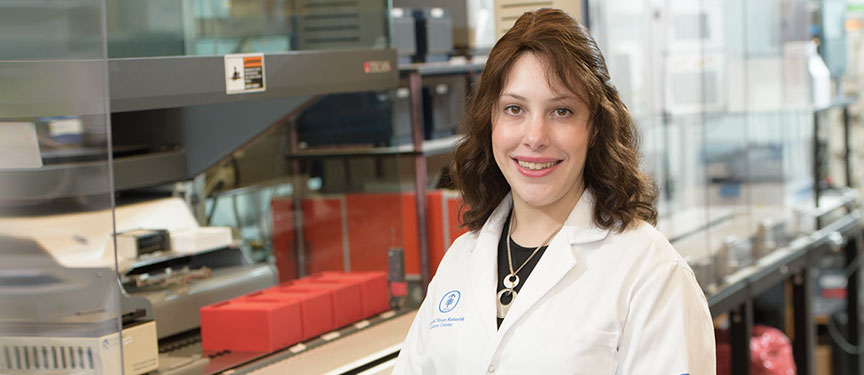 An interview with Chaya Stern
Q
A
What was the path that led you to TPCB?
I'm a non-traditional student; in fact, I'm the first one in my family to go to college. I taught middle school math and science and ran a business before going back to school. Teaching science inspired me to try to make my own contribution to science. While doing my undergraduate work at Brooklyn College, I was leaning more towards biology but I always felt that I needed a better understanding in chemistry to understand biology. When I was looking for a graduate school, I wanted to do work in physical chemistry that had applications in biology. The Chodera lab is actually a perfect space for what I want to do. I am currently working on improving the physical models used in molecular dynamics and statistical analysis of single molecule experiments.
Q
A
What made you choose TPCB for your graduate studies?
I was looking for a program that had the resources and the kind of research that I wanted, a high quality student body and that was also in New York City. TPCB was where I felt that I could do a PhD with high standards, but could also be workable with my life since I have a family and children. When I applied to TPCB, I raised the issue with the director, Prof. Derek Tan, that I have kids and I want to know if you're supportive. He said that he has had students with children in his own lab and that he was confident that I could be successful. Providing health insurance for dependents was very important to me and it showed me that TPCB takes support for students that are parents seriously.
Q
A
What kind of support has TPCB provided?
If you pursue a PhD while you have kids, you need to have a very strong support system. It's a big endeavor and a large time commitment. An important part of that support system is the university. In a good support system, no one lowers any standards—they expect the same high quality work—but there's an understanding that I need a little bit more flexibility to make it workable. People have been extremely helpful and very accommodating. I'm lucky that I'm working in the computational chemistry field. I can work at home, I can work while I travel, and I can work at night. There are fewer time constraints in computational research that make it more flexible.
Q
A
You were awarded a NSF Graduate Fellowship. What do you think was critical in your successful application?
The reviewers liked my proposal of working with both experimental data and computational approaches in addition to the resources and collaborative environment of the TPCB program. We have access to so many resources and if I want to work on something that needs experimental collaboration, I can get it here. The environment is important because if you are proposing to do something that requires laboratory experiments, you have to have access for that. They also appreciated my experience as a middle school science teacher and dedication to outreach with non-traditional students who face challenges acquiring an education.
Q
A
Do you know what you'd like to do after you get your degree?
I'm really enjoying the statistical modeling part of my research so I would love to work in an industry where I would do statistical modeling for either biotech or healthcare or a startup technology company.