Alumni Perspective: Grunbeck Perea
Combining chemistry and biology to create unique technologies
[[ PAGE BANNER: see the home page instructions for adding new images. Image should be 864 pixels wide by any height. ]]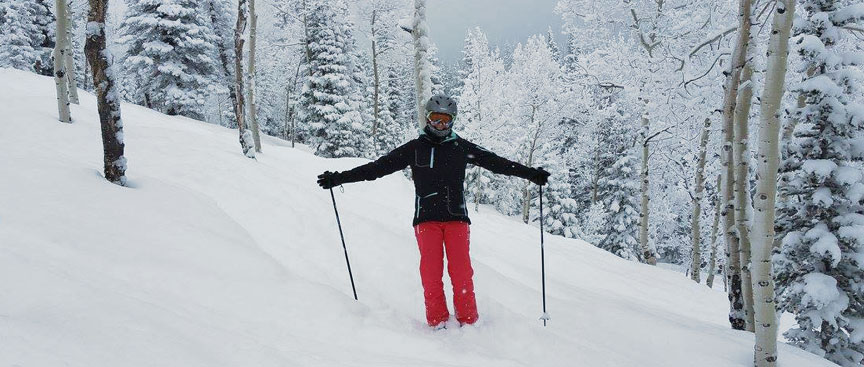 An interview with Amy Grunbeck Perea
Q
A
What drew you to your current career?
I'm working at Abcam. We develop research products, primarily antibody-based protein detection tools. After graduate school, I still wanted to work in technology development, as that was a piece of my graduate work that I really enjoyed. I knew Abcam from my graduate work because I would always use their antibodies and they had a reputation for providing great research products. One of the things about this position that attracted me the most was that I would be working within a team from a startup company that was recently acquired by Abcam for a new technology. They were going to be adapting this technology to measure proteins, so that was right up my alley. Being able to develop a high-quality technology that scientists can use in their research was interesting and exciting to me.
Q
A
Did your training and publication record in TPCB give you an edge in landing a job in biotech?
Yes, I think so. Graduating from a multidisciplinary program was attractive to my employers. I also think the names of the universities and the reputations they have for excellent graduate programs helped, along with the fact that I published 9 papers. Working in a field where technologies are really needed, and we were doing something unique, allowed us to publish a lot faster. At first glance your CV immediately shows that you learned a lot and are experienced in your area. Having this multidisciplinary background has also made it easier for me to do my job— I'm able to collaborate with people with different research backgrounds and to understand projects on a different level.
Q
A
Tell me about your experience as a student in TPCB.
Going into graduate school, I didn't have a very specific area that I wanted to study. I knew I liked chemistry, I knew I liked biology, and I wanted to do something that combined them. That was one of the reasons why I applied to TPCB, because it was a way for me to use my chemistry knowledge and the techniques that I learned in undergrad and move more into biology-focused projects. Having a program that starts out with lab rotations means that you can explore a lab that does straight cell biology, you can explore a lab that does biochemistry, and you can explore a lab that does synthetic chemistry. You can get a taste for all the different types of projects that you could potentially do for your graduate research. In other graduate programs that do not have rotations, I don't think you would necessarily have those opportunities to find where you fit in the best. Graduate school is a long commitment, five to six years, so you will want to enjoy the project that you're working on. I think it is very important to spend time to really figure out what interests you.
One of the things that attracted me to the Sakmar Lab was that it is very technology-based. So, even though we were studying G protein-coupled receptors, and on a broader scale diseases that they could impact, the projects were based on developing novel technologies. These proteins are very difficult to study, so developing new technologies to help understand how GPCRs are functioning in cells and how to target them better with drugs was needed. That was very interesting to me because to develop these technologies, I would be able to use my chemistry background while gaining skills in biochemistry and cell biology.
Q
A
How important was the community in TPCB?
I keep in touch with a lot of my close friends from graduate school and we all came from very different backgrounds—some straight from synthetic chemistry, some from cell biology—and we've all gone into different jobs after graduation. We learned a lot from each other because we approach problems differently, so getting that feedback and discussing our projects with each other during the graduate program was very helpful. Not only do you get to learn about your own project, you're learning about a vast array of different types of projects. It's always a great group of people that TPCB takes in and I think they do a really good job of selecting candidates who are not only hard workers but are also just good people. I think it is also a good thing that the program is relatively small. I got to know my fellow graduate students really well and they became close friends and people that I'll stay connected to in the future!